The QL–800 is a premium, inkjet color label printer. With the QL-800, you never have to sacrifice your quality for speed.
The QL-800 is a high productivity, tabletop color label printer designed with the most advanced inkjet technology on the market today. With its powerful digital color engine, the QL-800 enables you to print your own color labels, saving you money and time compared to purchasing excessive pre-printed labels from a commercial label printing company.
The QL-800 is designed with an excellent combination of speed, vibrant color and resolution with an easy to use high quality output. Combining the printing ability of both narrow and wide format labels with one printhead, the QL-800 is the best tool for customizing your product labels in affordable small quantities.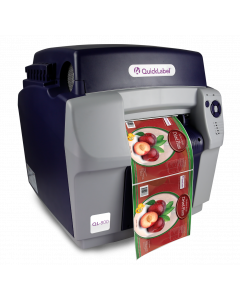 A true digital printer, the QL-800 easily prints labels with any text, barcode, or color graphics in affordable small batches, perfect for labeling multiple different products or labeling for different wholesale customers.
Operation:
Ink Type: Dye ink, (4) individual CMYK cartridges
Print Resolution: 1600 x 1600 dpi, 800 x 1600 dpi
Print Speed: 6 ips (152 mm/sec) at 1600 x 1600 dpi; 12 ips (305 mm/sec) at 1600 x 800 dpi
Print Area: Width: 2″ (51 mm) – 8.3″ (211 mm); Length: 1.0″ (25 mm) – 30.0″ (762 mm)
Media Sensing: Gap, Reflective (bottom-only), Continuous; Non-adjustable/fixed sensors
Connectivity: USB 2.0; 10/100 BaseT Ethernet, RJ-45 connection
Software: QL-800 Windows® 10/8/7, Server 2012/2008, 64/32-bit driver
CQL Pro Software label creation and print management
program suite or NiceLabel® software (optional)
Printing Supplies:
Ink Cartridges: QuickLabel® QL-800 CMYK dye cartridges, 250 mL
Maintenance Cartridge: 2,000 maintenance operations or approximately 2 million linear inches; Near full warning at approximately 80% full
Ink Type: High performance, water-based dye inks with extra wide color gamut that produce true-to-life color when combined with QuickLabel approved media
Media Dimensions:
Width: 2.1″ (54 mm) – 8.4″ (214 mm)
Length: 1.1″ (29 mm) – 30.1″ (765 mm)
Thickness: 5.5 mil (0.140 mm) – 7.5 mil (0.191 mm)
Roll Size: 8″ OD (203 mm) QuickLabel paper and synthetic labels on 3″ ID
(76 mm) core
Types: Gloss Paper, Matte Paper and Synthetic pressure-sensitive; Paper Tag Stock
Environmental & Physical:
Printer Operating: 41º F to 95º F (5º C to 35º C), 20% to 90% Relative Humidity (noncondensing). Printer should be installed on level surface with no more than 1º tilt in any axis
Power Requirements: 100-240 VAC 50-60 Hz, 2.6A
Power Consumption: Operating: 260W (max) Idle: 60W (max)
Dimensions: 23.7″ L x 20.3″ W x 20.8″ H (602 mm x 515 mm x 528 mm)
Weight: 64 lbs. (29.0 kg) without supplies; 70 lbs. (31.8 kg) with supplies; 83 lbs. (37.6 kg) shipping
Optional Accessories: Automatic Label Roll Rewinder and Unwinder
Warranty:
Printer: 12 Month Manufacturer's Parts & Labor Warranty (excludes wear parts and consumables)